History
Every building has a history. Join us in celebrating ours.
Blueberry Hill Estate is a 14,000 square foot estate that was built from 1954 through 1957 by entrepreneur Gene Cornwell. Cornwell made his fortune manufacturing wood television cabinets at the dawn of the Golden Age of TV.
Gene Cornwell's factory was a major employer in the area. Built originally as Cornwell's country retreat, Blueberry Hill Estate later was in the process of becoming a country club. Legendary golf course designer Pete Dye began work on an 18-hole championship golf course, which was one of his first designs. Due to a property dispute, the course was never completed.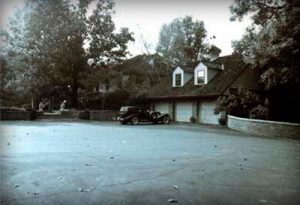 Cornwell and his wife, Dee, were world travelers. Many of the fixtures and antiques in Blueberry Hill Estate were brought back from their travels. In particular, the stately two-story chandelier in the main stairwell was brought from Chesnock Castle in Scotland.
The Cornwell Company burned to the ground in a large fire, destroying most of the factory building. Gene Cornwell rebuilt the factory and began producing cabinets for hall clocks, but the Cornwell Company's days were coming to an end. The factory closed and Gene Cornwell passed away in 1976.
Blueberry Hill Estate fell into disrepair until it was later purchased by current owner, T. Austin Bevis in 1982. T. Austin had retired from his career in Chicago, and fell in love with the beauty and sophistication of the secluded property. He raised his family in the house and, once his family had grown, he turned his sights to transforming the estate into a luxury estate.
Blueberry Hill Estate has been a beautiful Orange County secret for nearly sixty years. Now it's time for you to experience it for yourself.